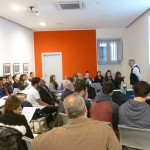 The Institute for the Study of Culture and Christianity, in cooperation with the Istituto di Cultura Evangelica e Documentazione and the Peace Studies Program of the American University in Rome, organized an international colloquium on RE:FORMATIONS ↔ MODERNITIES ↔ ORTHODOXIES. The colloquium took place on November 24, 201​7, at the ​​ICED in Rome. ​
The points of departure of this colloquium ​were two jubilees commemorated in 2017: the 500th anniversary of the beginning of the Protestant Reformation (1517) and the 100th anniversary of the Russian Revolution (1917). These two events were approached as critical in the history of modernity.
Many distinguished international scholars took part in the event ​ and contributed to the colloquium with their papers, including​ Hans Küng, Tamara Grdzelidze, Paul Gwynne, Berge Traboulsi, Marianna Napolitano, ​Leonardo De Chirico, Irene Caratelli, Lyal S. Sunga and Davor Džalto.
Videos available:
https://www.youtube.com/watch?v=aDNv1jExO5s
https://www.youtube.com/watch?v=xtn4DS_wuNI
https://www.youtube.com/watch?v=Kr1oLY3moI4
https://www.youtube.com/watch?v=RZylg8l4NJ4
https://www.youtube.com/watch?v=HHL6QWbhLlg
https://www.youtube.com/watch?v=oqJmiAQy-P0
https://www.youtube.com/watch?v=SGQ-TGIMFVA
https://www.youtube.com/watch?v=SGQ-TGIMFVA
https://www.youtube.com/watch?v=pOWgbypbeig
https://www.youtube.com/watch?v=xDnJab16S7g
https://www.youtube.com/watch?v=SdmkegQkrDY